As the new CMA CMG Explorer Class container ship THEODORE ROOSEVELT recently sailed under the Bayonne Bridge, which links the States of New York and New Jersey, guests of the Port Authority of New York and New Jersey witnessed the inaugural passage of a larger class of container ships to call at the region's busiest terminals.
Owned by French shipping group CMA CGM, the THEODORE ROOSEVELT is the largest capacity ship to ever visit the Port of New York and New Jersey. It can carry more than 14,400 TEUs, or 20-foot equivalent units. The ship is four times the size of the Statue of Liberty and the length of five football fields. The newly elevated Bayonne Bridge will accommodate ships as large as 18,000 TEUs with its added navigation clearance.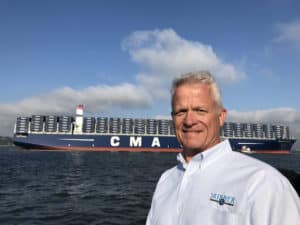 Bill Skinner, President of WB Skinner, and attending the event as President of the New York/New Jersey Foreign Freight Forwarders & Brokers Association, hailed the occasion as a new era for the region's importers and shippers. "Completion of this milestone project will help secure our competitive position as the premiere East Coast gateway for global shippers and international trade."
The Port Authority of New York and New Jersey spent $1.6 billion — part of the "Raise the Roadway" project — to raise the bridge's roadway to 215 feet to allow larger vessels into the port. The investment will improve access and infrastructure in the nation's third busiest port complex.
For more information, please contact bills@wbskinner.com