Focus
While we have gained experience in virtually every aspect of customs brokerage over the past several decades, we have developed a particular focus on serving the medical device, pharmaceutical, food, and cosmetics import industries. Many import items in these areas—including some very high value commodities—have highly complex entry categorization requirements.
Certifications
WB Skinner is a RLF (Remote Location Filer), meaning we can clear in every port in the United States, including Puerto Rico, as long as the importer maintains a continuous bond on file with Customs.
We are one of a handful of Customs Brokers in the United States chosen by the Food and Drug Administration to participate in a test program called ACE. This program allows brokers to submit documents through the internet. It is being used to expedite clearance of merchandise through FDA in a more suitable time period. We are on the industry's forefront in e-filing initiatives to allow brokers to submit documents online.  Working with EPA, FDA and other governmental agencies, we are helping to speed the progress of moving shippers' goods through the regulatory process, saving our clients time and money.
The three owners—Bill Skinner, Mike Skinner and Julie Hartenfels—are all Certified Customs Specialists, which means we must each earn 20 points a year by participating in educational programs that keep us informed and up to date on Customs regulations as well as Other Government Agencies.
Associations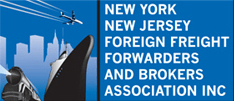 WB Skinner is a member of the New York/New Jersey Foreign Freight Forwarders & Brokers Association, Inc. The association provides information on issues and developments important to its members; serves as a voice for the Freight Forwarding, Customs Brokerage and OTI communities in policy and regulation decision-making; and protects and advocates the best interests of the group as a whole.

We are members of the National Customs Brokers and Freight Forwarders Association of America. The NCBFFA represents many forwarders and brokers in the United States, and provides insights into new and emerging regulations that may impact our business and your imports.
From the NCBFAA website:
Headquartered in Washington, DC, the NCBFAA represents nearly 870 member companies with 100,000 employees in international trade – the nation's leading freight forwarders, customs brokers, ocean transportation intermediaries (OTIs), NVOCCs and air cargo agents, serving more than 250,000 importers and exporters. Established in 1897 in New York, NCBFAA is the effective national voice of the industry. Through our various committees, counsel and representatives, the Association maintains a close watch over legislative and regulatory issues that affect its members. We keep them informed of these and other related issues through the weekly Monday Morning eBriefing, and various meetings and conferences throughout the year.