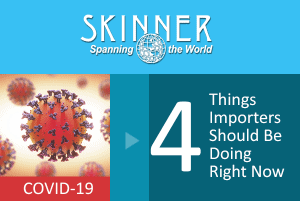 During this global COVID-19 pandemic, the international supply chain has been affected but overall ships are moving and capacity, especially from Asia, appears to be coming back on line. Unfortunately, Air Freight is not faring as well.
So far, there are commitments from all government agencies and service providers to keep things moving. While there are delays and changes, we have been able to navigate these issues so far, and we believe that this should remain the case over the next few weeks.
Four Things Importers Should Do Right Now:
REQUIRE TELEX RELEASE BILLS OF LADING – If you are not already doing it, we highly suggest that you insist on TELEX RELEASE b/l's from your suppliers on your freight. Submission of these to the carriers will become more problematic as many of them have closed down their physical offices where such documents are accepted. It is far better to have a TELEX/Express release from the origin on your import shipments.
PLAN FOR ADDITIONAL COSTS: New York and Los Angeles have gone almost exclusively to Appointment Piers for the pick-up of Full Containers. This is having an effect which we mitigate thru pre-clearance and early dispatch. There could be added costs for pre-pull to avoid demurrage and other actions taken to ensure smooth delivery of your cargo. We will keep our clients updated. As the time in port is increasing due to the crisis, vessel arrivals are increasingly delayed as berths are full, due to other vessels not departing on time. Unfortunately, Air Freight is even more adversely affected.
STAY AWARE OF SHIFTING SHELTER-IN-PLACE REQUIREMENTS: In the past 24 hours, the states of California and New York issued stay-at-home orders for 100 percent of non-essential workers. Other states are sure to follow. The National Customs Brokers & Forwarders Association of America, Inc (NCBFAA) "believes that forwarders and customs brokers (and other intermediaries, as well as carriers) would be permitted to provide forwarding and customs broker services to the extent necessary to keep goods moving in commerce."
PLAN FOR CONTINGENCIES:We believe that we will remain open and we have contingency plans in place already for remote sites and other plans to keep your cargo moving.

We operate our own warehouse in New Jersey and maintain partnerships with logistics providers who are able to absorb volume if you are in need of warehouse or distribution space for containers that arrive that you cannot unload.
Our Agents can assist at origin. We have agency representation at most Worldwide shipping points so we can help route your cargo if you are experiencing trouble in that area. We can quickly find out about the local situation and find other routes or at least verify information that you may be receiving from your agent.
Many of the perils of International freight movements are covered in our All Risk Policy including declarations of General Average.
We're here to help you address other issues that you may have where we can intercede, in any city in the USA. Please let us know how we can help, and check back at www.wbskinner.com for news and updates.
WB Skinner, Inc is committed to helping our customers survive and prosper during this uncertain time. Contact us HERE to see how we can assist you with your current and future importing needs.
Best Regards,
Bill Skinner
President
201-644-7214