More than 700 leading members of the industry gathered recently in New York at the 2018 NYNJ Foreign Freight Forwarders & Brokers Association Annual Dinner to honor Roy Amalfitano, the 2018 Person of the Year.  Association President Bill Skinner welcomed guests to the largest event of its kind in the importing industry.
The honoree, who is Vice Chairman of Evergreen Shipping agency (America) Corp., recounted the warm welcome he has received from the New York/New Jersey importing business community. The festive dinner was enhanced by entertainment, dancing and lots of networking!
Mark your calendars now for the 102nd Annual Dinner on February 7, 2019* at New York City's Marriott Marquis Hotel in Times Square.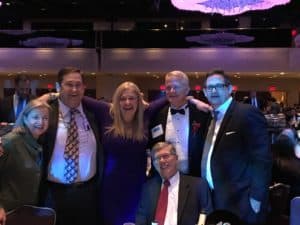 *Projected Date